Hollywood hotel poolside paradise
The epitome of SoCal's indoor-outdoor scene, The Kimpton Everly Hotel's fifth floor rooftop pool is stylishly activated from day to night. Featuring the same city-views as some of our guestrooms, the pool area is well-situated to remind yourself you're close to the glitz of Hollywood. Adjacent to the pool, is the outdoor lounge, perfectly situated for the evening events that range from special screenings and chef demos to live music performances. We won't judge if you also use this area to get a little work done outdoors mixing business with pleasure. Enjoy refreshing cocktails and light food offerings like avocado-feta dip and chips, pulled chicken pitas, fresh fruit salads, roasted vegetable and mozzarella paninis plus shrimp and preserved lemon flatbreads. Social bartenders are as much entertainers as they are servers, so order a refreshing daiquiri or gin lemonade, and perhaps make a brand-new friend.
Cabana Rental
Choose from 6 poolside Cabanas on our Skyline Sundeck.
Cabanas 1 through 5 accommodate up to 6 guests each
Cabanas 1, 2, and 3 or 4 and 5 can be reserved together
Cabana 6 is the largest and accommodates 8 guests and offers amazing views of Capitol Records
Spa water and fresh fruit are included with every cabana rental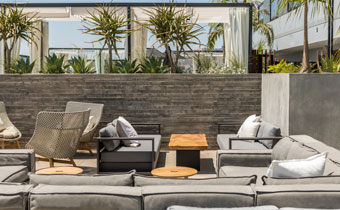 Private Rooftop Events
Our sundeck is perfect for:
Semi-private and fully private events
Wedding ceremonies, receptions, morning after brunches
Bachelor and Bachelorette Parties
Social or corporate events
Ever Bar
Our Hollywood cocktail bar is just an elevator ride away from The Skyline Sundeck. Offering cocktails, craft beers and local wines along side seasonal bar bites, and ever-changing music and events, Ever Bar is the perfect place to cool down after an afternoon under the sun.